[vc_row][vc_column width="1/2″][vc_column_text]Keeping your family's heart healthy and beating strong involves healthy habits like eating healthy, fresh, low fat foods and daily exercise.
This is the something that children can benefit from too.  We know that behaviors are formed during childhood so it is very important to help children establish healthy heart habits while they are young. Our heart is a muscle that works 24 hours a day, 7 days a week; It deserves some special attention.
[/vc_column_text][dt_gap height="20″][vc_column_text]
Heart Healthy Tips
Increase Fiber Intake
Serve oatmeal for breakfast and switch over to a 100% whole wheat bread
Add beans to soups or offer as a side dish
Place sliced fruit and veggies on the table for your child
Offer fresh fruit smoothies using low-fat yogurt
[/vc_column_text][/vc_column][vc_column width="1/2″][vc_column_text]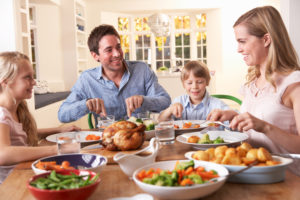 [/vc_column_text][/vc_column][/vc_row][vc_row][vc_column][vc_column_text]
Decrease Saturated Fat Intake
Offer low-fat mozzarella or Swiss cheese
Serve fish and chicken breast more often than red meat
Stir fry and bake your meals instead of deep frying
Serve vegetarian meals and skip the meat; your child can get plenty of protein from 1% milk, non-fat yogurt, beans, peanut butter, and tofu.
Use spray dressings vs. traditional Thousand Island or Blue Cheese salad dressing
Increase Intake of Healthy Fats – Monounsaturated and Polyunsaturated fats
Cook with olive, safflower, or canola oil (use small amounts as oils are high in calories)
Offer 2 tablespoons of cashews on top of yogurt; all nuts have healthy fat in them. (nuts can be a choking hazard so avoid offering to young children or children with nut allergies)
Seeds can be another great source for healthy oils. You can add ground flax seeds into a fruit smoothie or a on top of their favorite cereal or salad.
Add avocado slices to a salad
Daily Movement – Get Your Heart Rate Up
Get dance music on and dance with your child
Turn off the computer games and play basketball with your child
Go for a walk with your child
Sign your child up for swimming or gymnastics at the local recreation department
Prioritize your day so that movement happens – mark it down on the calendar as a reminder
We now know that changes in the heart can begin at a very young age. By making these simple little changes, you can be keeping family heart healthy. Remember, small changes do add up!
Source: www.nourishinteractive.com Feb 7, 2011
[/vc_column_text][/vc_column][/vc_row]