If you have concerns or questions about your child's health, treatment plan, or diagnosis, contact us to schedule a consultation with Dr. Jeff Rosensweig, a board-certified pediatric gastroenterologist. You can call (303) 830-9190, or e-mail [email protected].  
We know that food is a foundation to our health. A balanced diet of whole foods – fresh vegetables, whole grains, nuts, seafood, etc. – is a powerful medicine to prevent and fight illness and disease. Yet most doctors do not talk to their patients about food or nutritional care. How do we help people move in the direction of a healthier lifestyle and diet, to prevent illness or manage illness? We have the knowledge that what we eat impacts many of the diseases all around us including inflammatory bowel disease, celiac disease, and eosinophilic inflammatory conditions of the upper and lower digestive tract. Dr. Rosensweig is committed to the value of nutrition and its use in his practice.
We find inspiration in some strange places…
A balanced diet of whole foods – fresh vegetables, whole grains, nuts, seafood, etc. – is a powerful medicine to prevent and fight illness and disease.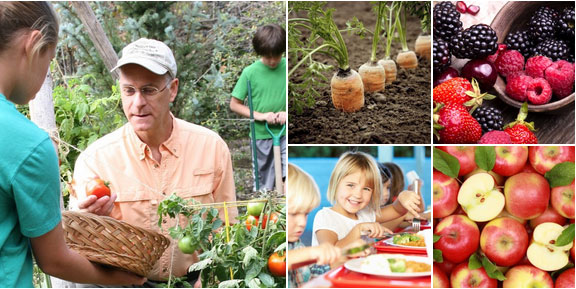 Dr. Rosensweig Recalls:
"After I sent a goat, to a faraway village, in honor of my mom's birthday, via Heifer International, I started receiving their newsletter, and the following article appeared, entitled "The Other White Coat" by Donna Stokes." It brought to my attention the fact that chefs and doctors have common ground to learn together, to reach across the table, to bridge the gap between what we should eat and what we want to eat."
"Currently nothing like this exists in the field of pediatric GI, yet so many of the diseases and conditions that we treat are impacted by what we eat. Perhaps we need to add tools such as spatulas, and skillets to our traditional doctor's black bag!"
The Importance of Health & Nutrition
Dr. Rosensweig is learning the requisite knowledge and skills that will help him better motivate his patients to adopt more healthful shopping, cooking, and eating habits and behaviors. His goal is to provide "some very simple techniques to change the dialogue with his patients' change the way patients think about food and nutrition." Understanding children's eating attitudes and behavior is important in terms of children's health.
Evidence indicates that dietary habits acquired in childhood persist through to adulthood.
Research also indicates a role for childhood nutrition on adult health.
A positive parental role model may be a better method for improving a child's diet than attempts at dietary control.
Lifestyle and diet play important roles in good nutrition.
Digestive disorders and conditions may require changes or additions to your child's diet, activities, and parent supervision. It is more about making sure your child has sufficient high-quality nutrition than it is about limiting or restricting diet and lifestyle, although some restrictions may be necessary for specific conditions. The body, especially while developing, requires high quality sources of food, vitamins, and other substances to grow into adulthood. Genetic factors or physical conditions may affect the body's ability to use nutrition properly. Our goal is to partner with you to provide advice and expertise regarding all areas of your child's health.
Good, timely nutrition is essential when normal digestion is disrupted.
The approach to specialized nutrition support is to use the gut whenever it works and allow the child to eat normally by mouth as long as it is safe. For many children, their diagnosis demands for them to take a high calorie diet to support their growth, and yet they might be unable to meet these nutritional requirements. Supplements by mouth are used to increase their nutrition and calories.
Due to difficulties with the digestive system, sometimes nutrition must be given in ways that do not involve normal ways of eating. These methods include specialized formulas given orally. In order to ensure minimal disruption to growth and development, infants and young children must be supported by these methods especially when serious and prolonged digestive complications arise.
Specialized nutrition support.
This method of nutrition support involves a small tube inserted into the nose or the mouth and ending in either the stomach or portion of the small intestine (NG/OG/NJ tubes). These tubes are used short term. Gastrostomy tubes (G-tubes) are placed directly into the stomach and are recommended when long-term nutrition support is needed.
Nutrition by the vein.
Another way to provide nutrition to the body is through the vein. Intravenous medicines and nutrients are supplied through a small soft tube called a catheter in the vein which can be at different locations on the body. Nutrition delivered in this way can be either short term or long term.
Please note that pediatric gastroenterologist Dr. Jeff Rosensweig sees patients at locations throughout the Denver metro area (including downtown Denver, Parker, Castle Rock, Lousiville, and Brighton), as well as in Fort Collins and Casper, Wyoming. Our peditatric gastroenterology office accepts Medicaid, as well as most major insurance plans. To schedule a consultation with Dr. Rosensweig, call (303) 830-9190 or e-mail [email protected].
In partnership with professional collaborators and this website Dr. Jeff intends to:
Share medical literature regarding the condition at hand, and the role that nutrition plays in that treatment plan.

Provide pragmatic information to thoughtfully advise patients, their families and colleagues about healthy menu strategies for dining at home and away from home.

Discuss cost and lifestyle issues related to healthy food shopping, cooking, and eating—and approaches to healthy diets that can be affordable for lower income individuals and budget-challenged families.

Identify credible resources including newsletters, websites, and other online resources related to nutrition, weight-management, and flavorful, healthy cuisine.

Discuss strategies for healthy cooking and eating that are fast, easy, approachable, and affordable.

Present to patients and colleagues the critical importance of regular movement/exercise and mindfulness with regard to dietary food choices and weight management.