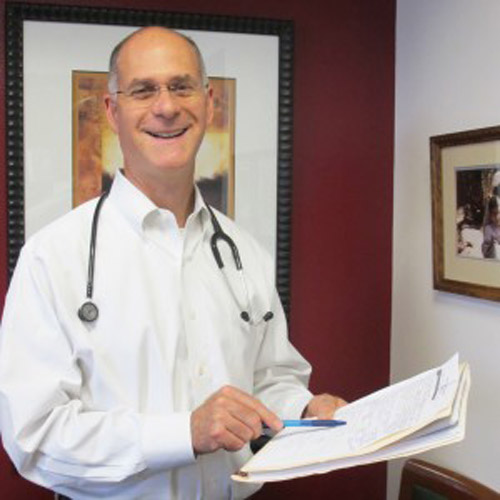 Dr. Jeffrey Rosensweig
Dr. Rosensweig is a pediatric gastroenterologist who treats infants, children, and young adults at offices and medical centers throughout the Front Range and in Wyoming. He has more than 27 years experience in the medical field.
In 2003, Dr. Rosensweig opened his private practice in the Denver metro area. As the owner of the practice, one of Dr. Rosensweig's favorite aspects is that he is able to "spend as much time with each patient, whatever is needed to address the issue at hand."
Born and raised in Baltimore, Maryland, Dr. Rosensweig graduated from Brandeis University (Magna Cum Laude), with a degree in Biochemistry. He received his medical degree from the University of Maryland School of Medicine and completed a residency in pediatrics at the University of Wisconsin in Madison.
Early in his medical training, when Dr. Rosensweig traveled throughout Africa, he developed an interest in diagnosing and solving the digestive problems of children. This led him to complete a fellowship in Pediatric Gastroenterology at John Hopkins University in Baltimore, Maryland.
Dr. Rosensweig is board certified with the American Board of Pediatrics, and he is sub-board certified in Pediatric Gastroenterology. He is also a member of NASPGHAN (North American Society for Pediatric Gastroenterology, Hepatology, and Nutrition).
In his spare time, Dr. Rosensweig enjoys skiing, hiking, cooking, reading, beekeeping, and spending time with his wife and two teenage children.
Dr. Jeff treats infants, children, and young adults with a variety of medical issues, including
gastroesophageal reflux, growth problems, feeding and swallowing disorders, food allergies, and more.
Susan Lorimer, Office Manager
Susan Lorimer, our office manager, takes care of just about everything you can imagine! She schedules appointments and procedures and also handles insurance (from collecting co-pays to getting pre-authorizations from insurance companies). She even measures the heights and weights of our patients.
Susan has more than 20 years experience in the medical field, and she "loves working with kids, from all ages – infant to teens and beyond."
A Colorado native, Susan was born and raised in the Denver metro area.
In her spare time, she enjoys camping, reading, volunteering at her kids' school, and spending time with her husband and two children.