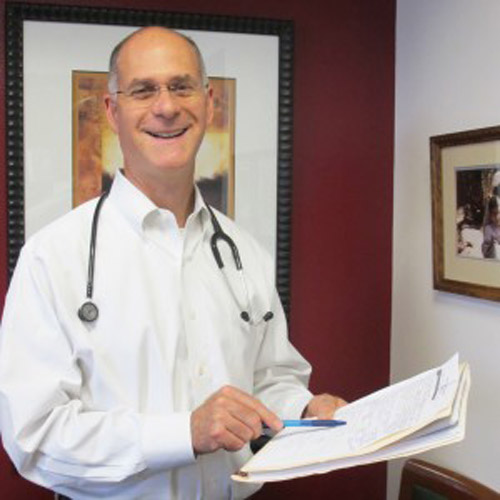 Dr. Jeffrey Rosensweig was born and raised in Baltimore, Maryland, and developed an interest in children, which led to his training in Pediatrics. Early in his medical training he traveled throughout Africa, and developed an interest in the digestive problems of children, culminating in his Fellowship training at Johns Hopkins University Hospital. After practicing on faculty in Philadelphia for several years, he was lured by the Rocky Mountains to continue practicing medicine and to enjoy the great outdoors. Celiac disease, Inflammatory bowel disease, eosinophilic digestive disorders, and functional GI disorders including functional abdominal pain and functional constipation are frequently seen. Occasionally, he sees families seeking a second opinion for their child's medical issues. He now lives in the Denver area with his wife and two children, enjoying the vagaries of the parenting process, and occasionally hiking, biking and swinging at tennis balls.
Dr. Jeff also has valuable experience from notable institutions, such as: John Hopkins University, Brandeis University, University of Wisconsin, and University Of Maryland School Of Medicine. He is board certified with the American Board of Pediatrics and sub-boarded in Pediatric Gastroenterology. Board certification requires a long term commitment to stay up to date with the advances in the specialty which improves the practice of medicine.
Dr. Jeff treats infants, children, and young adults with a variety of medical issues, including
gastroesophageal reflux, growth problems, feeding and swallowing disorders, food allergies, and more.
Susan Lorimor
Office Manager
Susan Lorimor has been working in the healthcare field for more than 15 years. She started as a volunteer at Swedish Medical. In 2006, Susan joined an orthopedic practice running the front desk and eventually transitioning to the Physicians Medical Assistant and Back Office Manager. She joined Pediatric GI Consultants in May of 2014.
Whether your child has special nutritional needs, like Celiac disease, diabetes, obesity, or food sensitivities, or you simply desire to improve your family's eating habits, our nutritionist Mary Ricci is available on a scheduled basis, to teach you about reading food labels, developing appropriate shopping lists and meal plans, finding kid friendly recipes, and guide you with successful elimination diets and more. Let us know at the office visit if this would be of interest to you.